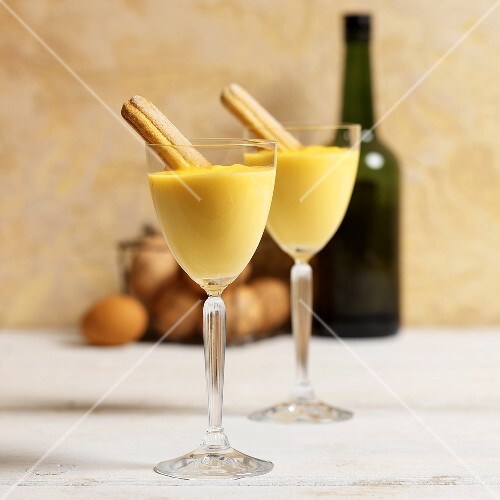 Martino Rossi, nee Martino da Como, nee Martino de Rubeis, nee Giovanni Rosselli, was also known as Maestro Martino (Martino the master), presumably because of his cooking prowess as shown in his four manuscripts known as Libro de Arte Coquinaria. This is an extremely important book in the history of cuisine. It was the first cookbook that had somewhat precise recipes and was well organized. It was printed in Latin in 1475, then in Italian, French, and English; and it was a popular treatise well into the 1700s.

In his magnum opus, Martino Rossi describes a dessert comprised of eggs yolks, sugar,cinnamon, and sweetish wine. He calls it Zabaglione (roughly translated: eggnog). Today, Zabaglione is one of Italy's most famous desserts. Rossi says that Zabaglione should be served when "it soils the spoon." (translation: when it is so thick it sticks to the spoon). Modern Zabaglione is made just prior to serving, usually in a copper sauce pot, and should be served immediately after it has thickened.

ZABAGLIONE

6 egg yolks
1 cup sugar
1/2 teaspoon cinnamon
1/4 cup marsala wine
1 tablespoon white wine

1. Mix all of the ingredients in the top of a double boiler. Cook over boiling water, beating the mixture constantly until it warms and thickens.
2. Remove from heat and continue beating until the mixture is fluffy. Serve in a serving bowl or individual cups or glasses. The Zabaglione, though thickened, should be soft, smooth, and light. One may have to add more or less sugar and/or wine depending on the consistency desired, some prefer it heavier, some prefer it lighter.
Yield: 4 servings.

Note: In some quarters, modern day Zabaglione is served over Italian macaroons (amaretti). Simply crumble the macaroons in the bottom of a serving bowl and pour the Zabaglione on top.

Photo: courtesy of StockFood/Paul Poplis Photography, Inc.